Two different restaurants operating out of one shared kitchen is a business model not often seen here in Kansas City, but found in larger cities where restaurant lease and equipment costs often require it. Many local operators are starting to think outside the box and take a fresh look at how to best utilize all of their space, staff and ingredients to run a more successful and profitable business emerging from the pandemic.
It's this kind of creative thinking that brought Bryan and Hailey Sparks, the new chef/owners of Waldo's favorite breakfast and lunch spot, The Classic Cookie, along with their friend and fellow chef Jade Zivalic. Zivalic opens a delicious new dinner concept, Wild Rose Bistro, at The Classic Cookie every Thursday to Saturday night, 4:30-9:30pm
The two concepts share an owner, staff and kitchen and find sweet success serving biscuits, coffee and crab eggs benedict or chicken salad sandwiches by day and beef tartare, eggplant piccata, maple-glazed Ōra King salmon and whole duck cassoulet by night.
As executive chef for Wild Rose Bistro, Zivalic is a relative newcomer to the Kansas City culinary scene, but her refined plating techniques and fresh, clean flavors betray quality training and technique. Yet it's her own uniquely unpretentious way of taking farm-fresh, seasonal ingredients to create her ever-changing menu of globally inspired small plates and simple and comforting entrees that makes dining here truly a totally relaxing yet surprising adventure. It also makes the menu at Wild Rose Bistro stand out among the mostly neighborhood bars and grills that serve standard pub fare all around it in Waldo.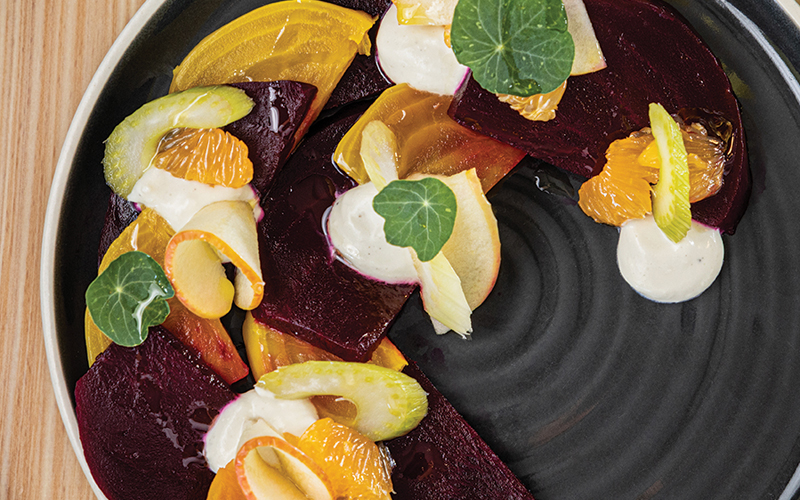 Growing up in El Segundo, California in a large family of great cooks, Zivalic was raised eating her mother's Filipino food and branched out from there. With access to different cuisines in LA, she developed her palate, eating dishes infused with fresh herbs, earthy spices, and fiery chilies. When her family moved to Arkansas, she followed a few years later and attended two years of culinary school at Brightwater: A Center for the Study of Food before being offered a nursery guard position at MOD, an upscale fine dining restaurant in Bentonville, Arkansas.
She eventually made it to Kansas City and landed at North Italia in Leawood, where she met Hailey and the two became fast friends. After Hailey and Bryan bought The Classic Cookie last year and decided they were ready to open a diner, they called on Zivalic to run the kitchen.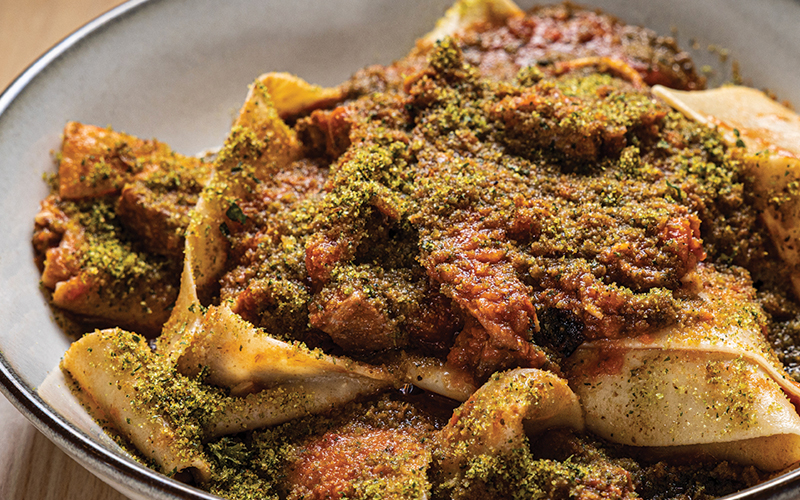 The restaurant seats only 30 inside and there are a few bistro tables and chairs outside. The couple has done a great job updating The Classic Cookie with a fresh coat of white paint, light wood tables, black chairs and lots of green plants hanging overhead. During the day, sunlight streams through the front windows, making the place light, bright and airy, at night, the lights are dimmed and music adds to the mood. Suddenly the space feels quite cozy and intimate.
As I unfolded my napkin, my waitress explained that there were several small plates on the menu that were meant to be shared and suggested at least two per person. Appetizers were bigger and heartier, and there was another drink menu with mocktails and two super sloppy but incredibly tasty cookie-based desserts.
At the time of my visit in September, Wild Rose Bistro did not have a liquor license. Sparks assures that it is being worked on and may be in place by the time you read this. If not, they allow guests to BYOB with no additional corkage fee. They've also partnered with Underdog Wine Co. owners Ryan and Jenny Sciaro to recommend bottles to pair with your meal at a discounted price if you mention you're headed to Wild Rose for dinner.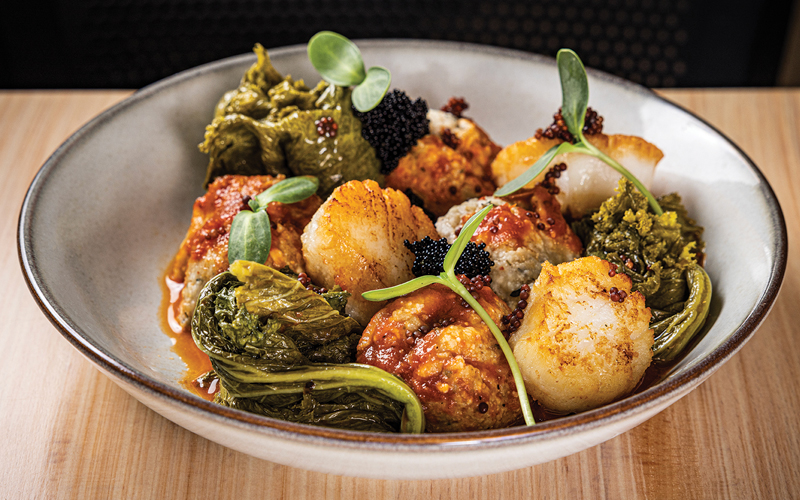 The bread service came highly recommended and arrived with a nice large sourdough loaf cut into four thick slices and served with at least half a stick of assorted mixed butters, including miso and seaweed butter, which my butter knife clearly preferred as it continued. back to it for its briny salt and rich umami.
This was followed by several small plates which may have been my favorite part of the meal due to the variety of flavors represented in all the dishes when served together.
Two Birds Farm had roasted cauliflower on black garlic hummus with chopped sweet dates and crunchy toasted hazelnuts, sunflower and sesame seeds and a punch of fresh mint.
The Chilled Cucumber Crab Caviar was a clean plate that let the fresh crab shine; this came topped with diced pickles and a spoonful of orange trout roe.
Finally came a pressed watermelon salad topped with slices of raw clams perched in a sauce made from fresh tomato water mixed with a touch of chilli oil. Every bite was like tasting the last breath of summer – hot, sweet and dreamy.
Appetizers were less complex in spice and heat, rather they were simple and completely satisfying. The pork chop was thick, cooked until pale pink and cut into thick strips on two large and impossibly fluffy corn cakes filled with corn with steamed vegetables on the side. The pork was lightly brushed with a touch of maple syrup, making day and night blend beautifully on one plate.
With the laid-back, neighborhood bistro vibe and fresh, creative cuisine coming out of the kitchen at Wild Rose Bistro, I think this particular flower will grow long, strong, healthy roots at Waldo.