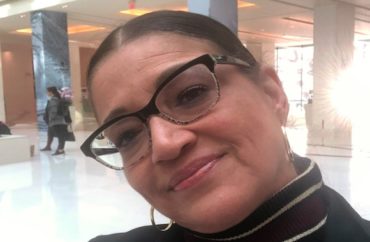 A professor teaches a course called "Honoring Oppression and Social Injustice"
A University of Alabama professor's desire to remove the word "Dixie" from the school's fight song has resulted in students trying to do the same.
Cassandra Simon, a 22-year-old veteran professor at the UA School of Social Work, has never been to a school football game, according to the song. Inside Higher Ed.
Last year, Simon (in the picture) and other black UA academics "officially" asked the school to get rid of Dixie because, according to historian Tammy Ingram, the term is "often considered offensive to 'evoke.'[ing] a very nostalgic and romanticized view of slavery."
In a letter to UA officials, Simon said Dixie "celebrates and vividly reminds many of the general acceptance of blacks as unequal and subhuman with the expectation that they will be submissive."
She suggested that the term "Bama" be used as a substitute, but added that she and members of the Association of Black Faculty and Staff were open to "other non-offensive and non-oppressive language."
UA administrators, Simon said, "wanted to see more evidence that students want change before moving forward."
Simon teaches a course called "Honoring Oppression and Social Injustice" for which the student requirement is "completion of an activism or advocacy project." After hearing about her work to remove Dixie, Simon's students began what is known as the "Delete Dixie Initiative".
The initiative's website follows Simon's call to replace Dixie with a "more appropriate term" like "Bama," saying, "By keeping the word 'dixie' in our university-sponsored and sponsored fight song, UA continues to perpetuate harmful language." and ideals."
MORE: NC State is removing 'Dixie' from its alma mater
A month ago, the students also started a Change.org petition that claims the university "declined to take action and said the issue was not a concern." Despite asking for just 500 signatures, the petition currently has barely half that number.
Comments on the petition include:
"["Dixie" supporters] i guess quoting abraham lincoln liking dixie doesn't mean it's not racist. Believe me, we will definitely come for him next time. He was also a racist."
"Everyone deserves to feel safe and protected in their homeland."
"Because as graduates it's been too long since we 'celebrated' such a dark, racist past. It's time to get over the redneck hate speech."
The first comment may refer to a counter petition that says "the man who was responsible for ending slavery was a fan of the song 'Dixie' and played it during his inauguration and after the surrender of Robert E. Lee." If the term Dixie was so associated with the Confederacy and slavery, then surely President Lincoln would not have been a fan of a song called 'Dixie'.
The counter-petition currently has 678 signatures out of a required 1,000 and claims that Dixie "has nothing to do with racism" but "everything to do with being proud of where you come from."
The word "is nothing more than a synonym for the South, with the connotation of home to millions of people," he says.
of I HIM story:
Elizabeth Prophet, a junior social work major who participated in the project, said she didn't know the connotations of the word "Dixie" when she first came to Alabama. Now that she's researched his history, she wants everyone to know.

"I wasn't aware of the history, as I think a lot of people on this campus weren't, but now that I am, I feel it's my responsibility… [to] to hear that information and take it and act on it," she said.

Another student involved in the effort, Eyram Gbeddy, a sophomore studying political science, said he was aware of the "Dixie" connotations before coming to Alabama, but didn't believe he had the resources to pull off the fight song on his own. He joined Simon's efforts as a member of the Black Faculty and Staff Association Ambassadors, a student group dedicated to bridging the gap between black staff and students at Alabama.
Prophet added that the Dixie efforts are just the "first step" of the initiative: "We're starting a conversation about the legacy of slavery, the legacy of the Confederacy and just the legacy of racism on campus."
According to her faculty page, Professor Simona's areas of expertise include "advocacy," "community engagement," "race relations," and "social justice."
MORE: The U. Mississippi Marching Band dropped "Dixie" from the game day playlist
IMAGE: Screencap University of Alabama
Read more
Like College Fix on Facebook / Follow us on Twitter