A historic design panel discussion held at the Barber Vintage Festival
Birmingham, AL – The Barber Vintage Motorsports Museum held its first design panel during the 17th annual Barber Vintage Festival in early October. The discussion was held with legendary designers in front of a packed audience gathered in the brand new Barber Advanced Design Center (BADC).
BADC was created to inspire new generations of creative thinkers. It functions as a high-tech industrial design research workspace that includes a multimedia center for visiting designers to learn and collaborate with other designers from around the world.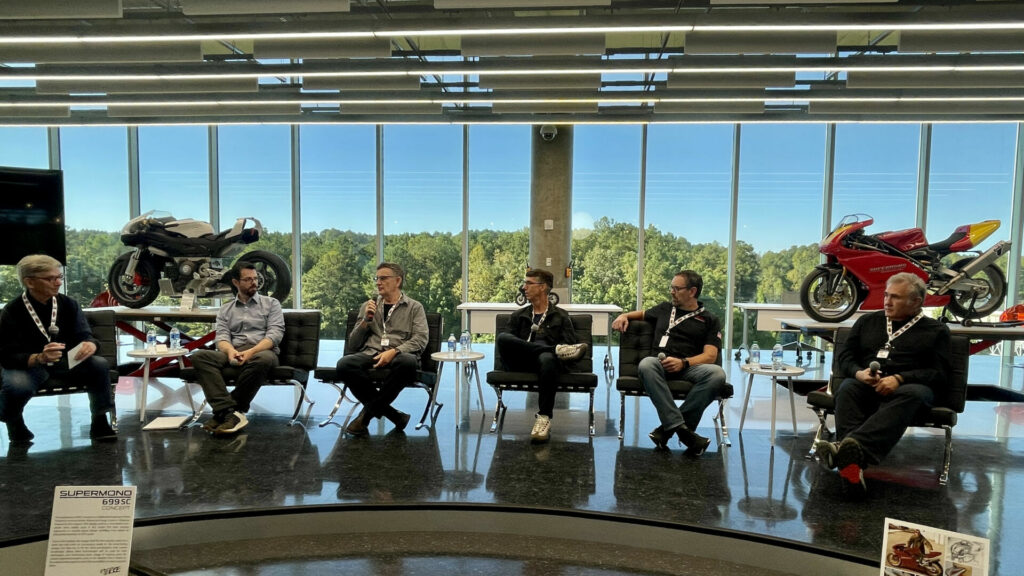 The judging panel included Ducati and Aprilia/MotoGuzzi's Pierre Terblanche and Miguel Galluzzi, Polaris Industrial Design Chief Greg Brew and Dell Technologies Senior Vice President of Experience Design Ed Boyd. BADC Director Brian Case co-moderated the panel with Ultan Guilfoyle, who is known for curating the world-renowned Art of the Motorcycle exhibition at the Guggenheim Museum in 1998.
"One of the great things about the Barber Museum is that we can literally go to any point in motorcycle history and see what the cutting edge technology was at that time," enthuses Guilfoyle about using museums for design research. "That's what we're talking about here, design as story." Or a story with a beginning and a middle, but we don't yet know where it will end. We'll find out where we're going tomorrow."
When asked how to capture the imagination of new buyers, Ed Boyd said: "When I worked at Nike, the design teams were constantly setting our targets towards youth. If we did another version of the same sneaker or what have you, then the age demographic will grow. We knew that if we developed designs that related to our youth, older people who want to feel young would also buy these products."
"I think there are new designers working on these vehicles, they come from different backgrounds," explains Terblanche. "The Rivian has a hidden flashlight, it parks and self-levels, my stove comes out the side, I have storage. Another one I like is called Canoo, they've done all these things that people haven't done before with IC trucks. So why couldn't the designers do this with the IC trucks? They could, but they didn't."
When asked about designing for more specialized uses, Galluzzi said: "We cannot forget that the markets are very different. If you drive from the US all the way to India, what we are talking about would be completely different. That's part of our job to understand what the real need will be between different cities in the world."
"If you're constantly doing production programs, it's like you're constantly playing the game and never practicing," Brew said of developing concept vehicle design and build workflows. "So for us, concepts are a chance for everyone to practice. It's imperative that we stay ahead."
Connect with @BarberMuseum on YouTube, Facebook, Instagram and Twitter to learn about future programs at the Barber Advanced Design Center.
The Barber Vintage Motorsports Museum is a 501(c)(3) Not for Profit Foundation located in the 880-acre Barber Motorsports Park in Birmingham, Alabama, dedicated to the preservation, interpretation, exhibition and history of motorcycles, vintage vehicles, and motorsports. The museum is home to the largest motorcycle collection in the world and is widely known for its collection of vintage Lotus racing cars and other rare vehicles. It hosts vintage motorcycle and vintage racing car events every year, including the Barber Vintage Festival and Barber Historics. For more information, visit www.barbermuseum.org.