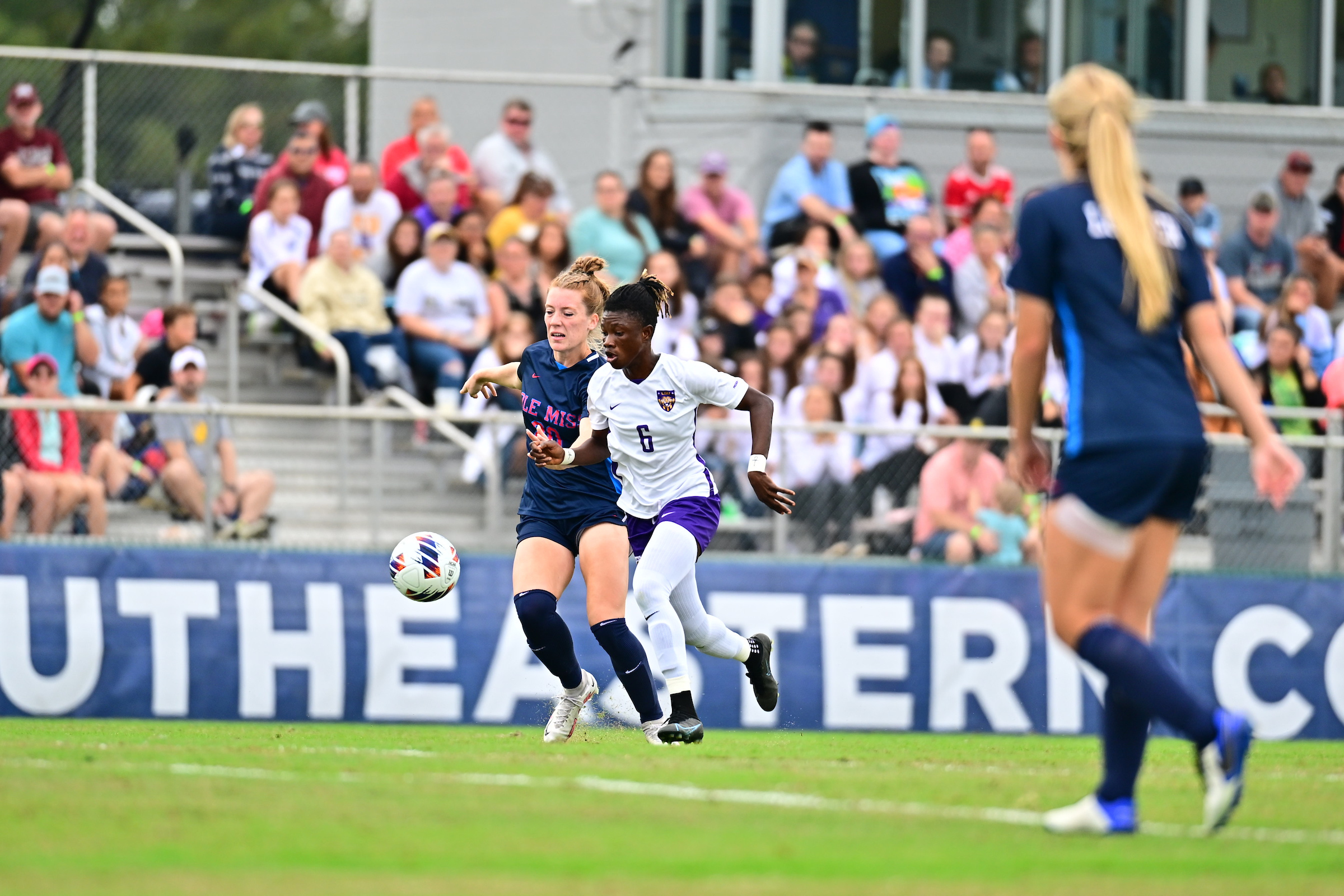 The LSU football team lost more than an opening-round game against Ole Miss on Sunday in the Southeastern Conference Tournament.
When the Tigers begin play in the NCAA Tournament in November, they will do so as an at-large team after losing to the Rebels in penalty kicks and also without two key veteran players in seniors Maya Gordon and Rammie Noel.
Gordon and Noel were among three players sent off for fighting in the 104thThursday minute during the second overtime at the Ashton Brosnaham Soccer Complex in Pensacola, Florida. They will receive a game suspension and will be unavailable when the Tigers begin NCAA play on Nov. 11.
The Tigers played the remaining six minutes of the second overtime down to take the game to penalty kicks.
LSU goalie Mollee Swift, who had three saves, blocked Ole Miss' first penalty attempt. But despite hitting the right layup and getting hands on three more penalty attempts, the Rebels got back-to-back goals from Kayla Chatman-Haggerty, Aubrey Mister and Price Loposer to advance to face No. 2 South Carolina.
LSU (9-3-7) closed out the regular season at home Thursday with a convincing 4-1 win at home against Ole Miss.
Three days later, the Rebels held a 16-15 edge in shots and both teams had three shots on goal, with the Tigers leading 7-3 in corner kicks.
Both teams scored once in the first 10-minute overtime as tempers flared in the second overtime.
Gordon was in position for a steal and possession in LSU's defensive third against when Ole Miss' Ramsey Davis caught her in the pass, prompting Gordon to punt. Davis also threw several punches before being carried off the field by teammates when Noel attacked and threw a punch.
LSU's penalty kick substitution against Ole Miss' Ashley Orkus, the SEC Goalie of the Year, resulted in no goals. Shannon Cooke and Tilly Wilkes were denied by Orkus and Brenna McPartlan sent her effort over the bar.
Three honorees on the All-SEC team
Center fielder Lindsi Jennings was named to the All-SEC first team, midfielder Wasila Diwura-Soale to the second team and forward Ida Hermannsdottir earned new All-SEC honors as announced by the league.
A native of Conroe, Texas, Jennings was a key part of the Tiger defensive backfield. She played in all 19 games for the Tigers and recorded two goals, one assist and five points.
Wasila Diwura-Soale, a native of Accra, Ghana, had her first career brace in Thursday's win over Ole Miss and has three on the season with six points.
Hermannsdottir has six goals to his name but missed Sunday's game with a high ankle sprain.
First Team All-SEC
Forward: Riley Mattingly Parker, Alabama
Forward: Anna Podojil, Arkansas
Forward: Jaida Thomas, Tennessee
Forward: Catherine Barry, South Carolina
Forward: Maile Hayes, Texas A&M
Midfielder: Felicia Knox, Alabama
Midfielder: Abby Boyan, Georgia
Midfielder: Taylor Huff, Tennessee
Midfielder: Raegan Kelley, Vanderbilt
Quarterback: Reyna Reyes, Alabama
Defender: Jylissa Harris, South Carolina
Defender: Maya Antoine, Vanderbilt
Defender: Lindsi Jennings, LSU
Goalies: Ashley Orkus, Ole Miss
Second Team All-SEC
Forward: Gianna Paul, Alabama
Forward: Ava Tankersley, Arkansas
Forwards: Mo O'Connor, Ole Miss
Forward: Mackenzie George, Tennessee
Linebacker: Riley Tanner, Alabama
Midfielder: Bea Franklin, Arkansas
Midfielder: Wasila Diwura-Soale, LSU
Midfielder: Macey Hodge, Mississippi St.
Midfielder: Mia Pante, Texas A&M
Quarterback: Sasha Pickard, Alabama
Defender: Ellie Podojil, Arkansas
Defender: Grace Pettet, Missouri
Defender: Ella Shamburger, Vanderbilt
Goalie: Grace Barbara, Arkansas
All-Freshman Team
Gianna Paul, Alabama
Brooke Steere, Alabama
Ella Riley, Arkansas
Mackenzie Malham, Arkansas
Gracie Falls, South Carolina
Día Hermannsdóttir, LSU
Maggie Wadsworth, Mississippi State
Bella Hollenbach, Missouri
Shae O'Rourke, South Carolina
Carolyn Calzada, Texas A&M
Hannah McLaughlin, Vanderbilt
Coach of the Year: Wes Hart, Alabama
Forward of the Year: Riley Mattingly Parker, Alabama
Midfielder of the Year: Felicia Knox, Alabama
Defender of the Year: Reyna Reyes, Alabama
Goalkeeper of the Year: Ashley Orkus, Miss Ole
Rookie of the Year: Gianna Paul, Alabama
Scholar-Athlete of the Year: Riley Mattingly Parker, Alabama